Can online dating work?
That is the question many single people are asking. Well, certainly it works for some people, but what is the real experience of potential dating couples looking for love on line. Many of the people who come to us at Across the Room looking for something different say that their experience of dating online is less than encouraging.
One of the problems which our clients mention frequently is the uncertainty about the genuineness or otherwise of the photograph posted on people's online dating profile. Of course, in reality many will be genuine, accurate and truthful, posted by people honestly trying to meet their match in the online world. Some will use what they believe is the best photograph they have, even if it is several years out of date, after all, if you are preparing an online profile hoping to attract a good response, you will want to portray yourself in a good light. So "old" photographs and not always a sign of intent to deceive, but perhaps do no favours in the long term if you eventually get to meet someone.
If you have been in the world of online dating for some time, you may be one of many who send hundreds of messages to people and experience only a one or two percent reply rate. Why is this so common? It could be due to the the content of the message you send, the way you have constructed your online dating profile, perhaps even the unintentionally created concept that you appear too good to be true!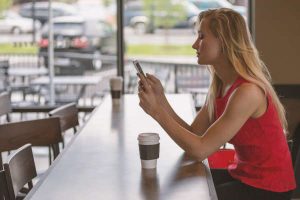 One thing is clear, it takes stamina and perseverance if you hope to get anywhere with online dating. You need to carefully think through your profile, your photograph and your general strategy. There can certainly be no guarantee of success, in fact the only thing which can be guaranteed, at least in some people experience, is a long hard slog!

What are the alternatives?
If you are looking for an alternative to online dating, there are traditional dating agencies around. Here at Across the Room we like to meet our members face to face – so you can be sure that the photograph you see on the dating profile is actually the person in real life. We always offer a photo-shoot to our members to encapsulate their true likeness. Members are welcome to supply their own photographs if they wish, but as we have met them, we will always be able to verify the true likeness! Of course, people want to look their best in the photograph, and we encourage this, but a photographic likeness can be both true to kind and bring out the best in someone.
If you join Across the Room, you are not left with the task of writing your own dating profile, we always talk to our new members and find out about them, their likes and dislikes, their character and what they are looking for in a potential partner. We then compile a profile, together with one or more photographs and make sure you are happy with it before anyone else sees it.
We have members in many counties in the U.K. and are expanding, so if you fancy something with a little more certainly that the online dating world, please give us a call. Tell us your experiences and what you hope to achieve in life, the sort of person you would like to meet, and we will do our best to help you along the way.
That's the other thing – if you join Across the Room, there is someone on the end of a telephone you can call if you have any questions about a profile you have been sent.
If you would like to know more about what we offer, just give us a call, we look forward to hearing from you.